Dist 13 Adds new grass unit to fleet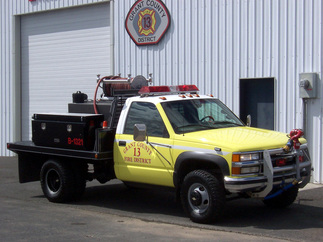 EPHRATA-- Grant County Fire District 13 has a new weapon in the fight against the numerous wildland fires that they respond to every year. Its a 2000 Chevrolet 3500 wildland attack unit. This vehicle was acquired through Dist. 13's fifth consecutive Department of Natural Resources Assistance to Firefighters Grant.

With this grant Dist. 13 purchased the Chevrolet chassis separately and then add the flat bed, skid unit, front mounted remote nozzle and lights. The truck achieved its new remodel because of many hours of work by the District's volunteers. The volunteers logged over 75 hours building the truck.

The truck features a 300 gallon tank, 18 horse power Honda pump, 100 gallon per minute front mounted remote nozzle and LED/Halogen combination lighting package. The remote nozzle enables firefighters to fight the wildland fire from inside of the truck, thus reducing the chances of injury.

A new wildland unit professionally built would have cost the district around $60,000. That is over two thirds of our operating budget. Fire District 13 has been successful in receiving grants and thus improving our service while not charging our residents more in taxes. The firefighters of Dist. 13 are very proud of this truck and look forward to utilizing it in their everyday mission of providing safe, efficient and affordable fire and life safety services.

---