Address Markers Help us Find Your Home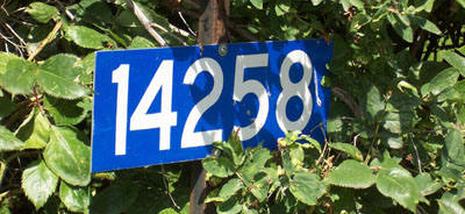 In an emergency could local police, fire or emergency medical services find your home?

The answer is YES!
..... Only if your
address is clearly marked
, and your address marker is located at your property access road or driveway unobstructed from their view. You can make sure responders find your home by purchasing a uniform address marker recognized by Grant County Area Emergency Personnel. The best part is it
only costs $15
.
Uniform Address Marker Features
-Reflective (easily seen at night) -Low cost (only $15)
-Uniform (recognized by all Grant County Area Emergency Services)
-
Added security that emergency personnel will find your home quickly
Having trouble making up your mind? Maybe these facts will help you decide.
On average in Grant County there is:
-Only one Police Officer on duty for every 2,500 people
-Only one Firefighter on duty for every 4,500 people
-Only one Emergency Medical Specialist on duty for every 6,000 people
-Only one 9-1-1 Dispatcher on duty for every 20,000 people
-Address markers are required by Grant County Code in some instances
How to Order a Uniform Address Marker
Please visit the Grant County "Site Addressing" web page located
HERE
and click on "Application".